Scrapbooking Global Blog Hop – Scrap the Boys
Ook deze maand doe ik weer mee met een bloghop georganiseerd door het Scrapbooking Global Bloghop Team. Het thema voor deze maand is 'Scrap the Boys'. Met alleen maar mannen in huis is dit thema me op het lijf geschreven!
*Select at the right your language, this blog is written in Dutch.
Oliver was laatst uitgenodigd voor een kinderfeestje, waarbij ze gingen klimmen in het klimbos. Hij heeft een fantastische dag gehad en kwam helemaal uitgeput thuis. Gelukkig hadden ze wat leuke foto's gemaakt van de kinderen. Oliver zou Oliver niet zijn als hij een gekke bek zou trekken. Deze foto vroeg erom om ingeplakt te worden in zijn foto album.
Met de Gorgeous Leaves bundle, Nuts about squirrels stempelset en Playfull Alphabet framelits kwam deze layout tot stand. Ik werkte met verschillende herfst tinten en heb geprobeerd de kleuren uit de foto te matchen met de pagina.
Ben je benieuwd wat de andere Stampin' Up! collega's hebben gemaakt in dit thema? Hop dan snel verder door op onderstaande afbeelding te klikken of kies een naam uit het lijstje.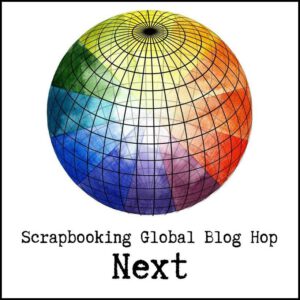 Wil je ook eens met de Gorgeous Leaves bundle aan de slag gaan? Ik organiseer binnenkort een (online) workshop waarbij deze set centraal staat. Kijk in de agenda voor meer informatie.